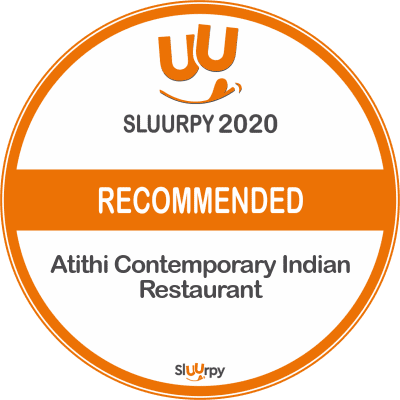 Reservation Line: 01904655205
26, Fishergate, YO10 4AB, York
Email ID: atithiyork@gmail.com
To All,
I am Amar Singh Rajput, Chef of Atithi.
'Atithi' means guest, the word is taken from an ancient Sanskrit verse 'Atithi Devo Bhava' which simply means – consider the guest as God. Atithi Devo Bhava prescribes a dynamic of the host-guest relationship. My team and I thrive to run Atithi on this belief, by providing our guest with authentically prepared contemporary Indian food with an amiable and efficient service.
I was born in Gujarat my family has been part of the hospitality business, running successfully for over 25 years. I began my culinary journey by joining Institute of Hotel Management run by Taj Group of Hotels. I gained extensive experience and knowledge under experienced teachers and chefs. I then moved on to work in some of the most prestigious Hotels and Restaurants in India and the UK, to mention a few, The Taj Mahal Mumbai, JW Marriott, Ramada, Crown Plaza and Renaissance. These establishments also gave me an opportunity to cook and serve for State Dinner, under supervision of Chef Hemant Oberoi.
I came to Manchester, United Kingdom in 2008 to pursue Master's in Hospitality Management. After completing my honors, I worked with many hotels in the UK, and then opened my first ownership Indian restaurant in York, named as "Masala Craft". After success with Masala Craft, we are re-branding ourselves as "Atithi" – Contemporary Indian Restaurant.
Immense hard work has been taken to ensure our menu reflects the full diversity and vibrancy of Indian cuisine with a contemporary style.I hope you enjoy the food & drinks the same way we enjoy cooking and serving it for you.
I look forward to welcome you all at Atithi.
Amar Singh Rajput
About Atithi
One of the best authentic and the only contemporary Indian 🇮🇳 restaurant 🍴 in York ✌️. Discover the unique flavers threw our menu and take urself threw a culinary journey to India.
Address to a Haggis
I did not want to stop my imagination and creativity with the new menu. I love cooking and I love the fact that a lot can be understood about a culture, about a heritage and an individual just by the way they cook and enjoy food. That's what food does, not only does it evoke memories, but it creates new ones.
Most of my dishes have a unique story behind them. When you visit Atithi and go through the menu, a first look gives you a sense of how personal the food is that we serve to our guests.
During my stay in Stirling, Scotland I came across this amazing, unique blend of flavours, a
perfect example of how the art of cooking has no boundaries or limits.